Please bear with me as this compilation is a "list as I go" and a work-in-progress. These are just some of my favorite stores that I frequent when I'm in HK. Note that I am a tokusatsu fan so this guide will emphasize more on such things. =3
This is a map of my usual toy hunting route…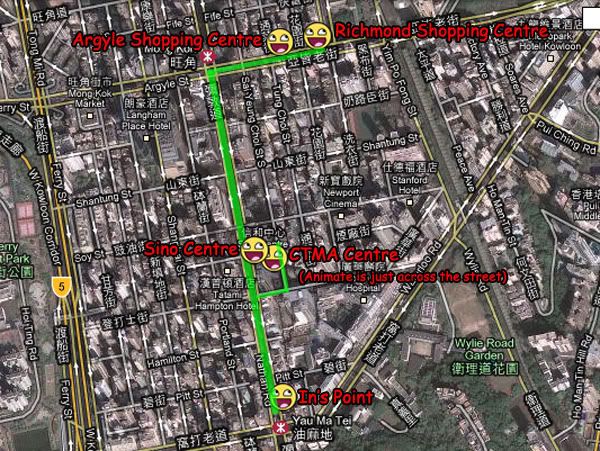 These are the frequent spots I frequent when toy hunting…
現時點 In's Point @ 油麻地 Yau Ma Tei
530-538 Nathan Road, Kowloon
» Easily my favorite place to go to when it comes to shopping for toys. It has the highest concentration of toku toys than other places that I know of — so if you don't like the price at one shop, there's always the next shop that will have it better. It's also air-conditioned (which is absolutely necessary in the summer!) and far less crowded compared to Mong Kok.
Mentions in blog posts: [1] [2] [3] [4] [5]
Some good shops here are:
» Hobby Treasure — Really friendly shop owner who often has the best prices on a lot of items I'm looking for, and is always open whenever I visit them.
» Good Toys — Amazing shop display and lots of rare items to be found.
兆萬中心 CTMA Center
1N Sai Yeung Choi Street South, Mongkok, Kowloon
Extremely crowded as it is not only the most popular place for toys, but also a major gathering place for youth. Area can be somewhat dangerous so always keep a watch on your wallet and valuables. Shop-wise, there is a far wider selection of stores here selling other stuff aside from toys.
Mentions in blog posts: [1]
Some good shops here are:
» Superman Toys — One of the most famous toy shops here, prices may not be the best but they are a very reputable and well-known business
» Toy Hunters — The official store for Hot Toys products! Very impressive displays and the best place to get your Hot Toys products.
宇宙船 Animate @ 旺角 Mong Kok
» Right across the street from CTMA Center. Can't miss it. They have a lot of the current stuff as well as some older toys. Prices are fair but are higher than the smaller shops. For the new releases, the smaller shops are cheaper. However, the store environment is great with really nice displays to feast your eyes upon. I think it's better for window toy shopping than buying, heh.
Mentions in blog posts: [1] [2]
信和中心 Sino Center
582-592 Nathan Road, Mong Kok (on the same block as CTMA center, just walk around the block on Sai Yeung Choi St. and Dundas St. and you will see it)
» A few toy shops here and there in the middle floors but mainly DVDs, CDs, video games, books, and other non-toy shops throughout the building. There seems to be a growing number of women clothing stores near the top two floors last time I was there in December 2010. Overall, I wouldn't recommend bothering with this place if it's just toys you're looking for.
Mentions in blog posts: [-]
奇趣天地 Wonderland Superstore (main branch)
Shop G5, Juniper Mansions, Whampoa Garden, Hung Hom, Kowloon
» The name is self-explanatory, it is a superstore with a HUGE selection of toys. Prices are not as great as the smaller shops but if is on sale, it is a killer bargain. I've also stumbled upon some nice unexpected finds here.
Mentions in blog posts: [1] [2]
淘大商場 Amoy Plaza @ 牛頭角 Ngau Tau Kok
77 Ngau Tau Kok Road, Kowloon
» This place is pretty far from where I am but it was recommended to me by someone from RangerBoard so I decided to pay a visit here in 2008 and 2009. There was a lot of shops to browse here in 2008, but a lot of them closed down when I went again in 2009. I haven't bothered going back since. =/
Mentions in blog posts: [1] [2]
Some good shops here are:
» Glass Street Toys — Super friendly shop owner whom I really enjoy buying from and has great deals. Just a shame that I'm so far away from here otherwise I would definitely visit this shop often. (Note: I have not been here ever since my visit in August 2009 so I do not know if the shop is still in business or not.)
先達廣場 Argyle Center @ 旺角 Mong Kok
Mentions in blog posts: [1]
皆旺商場 Richmond Shopping Center
» Another great toy spot to hunt. Lots of great selection and prices to be found here as well.
Universal Models
Shop 4, 579 Nathan Road, Mongkok, Kowloon. Tel. 27711930 (website)
» I didn't find much at this shop that I couldn't find anywhere else. I would not recommend coming here if it's out of the way, but if you just wanted to browse, it doesn't hurt to pay a visit.
Toys "R" Us
又一城 Festival Walk @ Kowloon Tong, 新城巿廣場 New Town Plaza @ Shatin, 海港城 Harbor City @ Tsim Sha Tsui (There lots of TRU stores around HK but those are the ones I frequent.)
» Your standard "general population" toy store chain. Carries the latest toys but unlike North American TRU stores, they also have toys from the current Sentai and Kamen Rider series airing in Hong Kong. (FYI, Hong Kong is 2 years behind Japan if you want to figure out what the current series is. New Sentai series tend to begin in March and new Kamen Rider series tend to begin in November.)
Toyzone 16
Room 1601, 16/f Causeway Bay commercial Building, No. 3 Sugar Street, Causeway Bay, Hong Kong
King & Country
Shop 362, Level 3, Pacific Place, 88 Queensway, Hong Kong (website)